[This post first appeared on BigFourZa, where I write as a football columnist.]
Well, I'm speechless to think up even an introduction. From beating Arsenal 8-2 to getting run over 6-1 by City - how times change. So let us just fast forward to the five things I observed from the humiliation this evening. Apologies in case you find your knees jerking after reading this.
1. Evans' Red Card Changed It All
Till the time Evans was sent off just after the interval, City were 1-0 up. With 10 men & chasing the scoreline, it was always gonna be an uphill task for United & they learnt it the hard way. City kept on launching counterattacks thereafter & the result was there for all to see. Also, our defensive discipline possibly took a flight out to Honolulu just alongwith Evans down the tunnel. Smalling at CB & Evra were caught out of position too many times, which is unforgiving in such a big fixture like this.
2. David Silva Can Be One of the World's Best Players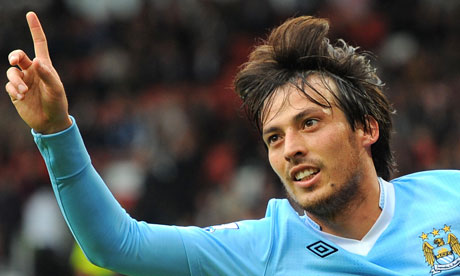 Everytime the ball fell to his feet, you knew that he'd do something magical. You just knew it. And boy, he didn't disappoint at all. Everytime he entered United's penalty area, most of the United players were confused whether to stop him or not as he dribbled past defenders with relative ease. He was pretty much unstoppable today & if he can carry on this sort of form throughout the season, he might be spoken of in the same tones as Messi & Ronaldo.
3. United Need That World-Class Defensive Midfielder
Anderson. Fletcher. Carrick. Cleverley. Gibson. Pogba. Now those names might be familiar to most Premier League fans, but they are quite short of the tag 'world-class'. Anderson went missing tonight completely, and he's too inconsistent for United quality. Carrick or Phil Jones is simply not the way out. Cleverley is blessed with creativity & the laid-back role is not for him. Pogba & loaned-out Tunnicliffe are still in their formative years & need more time. That simply means, we do need that hard man in midfield. Someone in the mould of Keane or Hargreaves, or say De Jong of our cross-town rivals City. Who can act as cover for the back four & can intimidate the opposition with crunching tackles. Whether one likes it or not, this kind of player has become a vital cog in most successful teams of modern football & we need one, that too desperately.
4. Balotelli Showed Why He Better Keep His Head In The Game
I read this morning that Mario Balotelli set his house on fire by blasting fireworks in the middle of the night. Well, that's nothing surprising given his history for keeping us entertained with his off-field antics. But he started the game ahead of Dzeko & justified Mancini's faith in him by scoring a brace. During his celebration after the first goal, he raised his shirt to reveal
'Why Always Me?'
written under it. Well, I couldn't help but smile broadly thinking of the obvious answer. The problem with Balotelli is that he's just bit too eccentric for our tastes. If he can shift more of his focus to his on-field performances & maintain this kind of consistency (6 goals in his last 5 games), he's worth the trouble to hold on to at the club. Credit to Mancini for the way the Italian has handled him so far.
5. This is Not the End of the World, Please!
Okay, we were properly humiliated & now I know what it feels to be an Arsenal fan! (I'll make it a point to treat Gooners with more respect, I promise) Harsh reality check for the team who just gave in to City in the second half. But then, looking at it the other way, most of our toughest fixtures in the first half of the season are pretty much over, which will surely ease the pressure at the club. Let's not discount the fact that we had the toughest start to the season among all Premier League clubs, and we have emerged quite unscathed barring the defeat to City. Manchester United has always been about reacting to adverse situations, and I know in my heart that we will rise & fight back even harder than before. This is how it has always been, and I have immense faith in our manager that he will lift us out of the mess we looked against City. So cheer up my fellow Red Devils, and look forward to the occasion when our lads take the field next time. Go on, have a laugh about it. After all, you lived to see the day when United were steamrolled by City at Old Trafford. Coz you might not witness this EVER again.
You can follow the author on Twitter
@AbhinavCJ
. You can be friends with him on Facebook
here
.
Download the
Traffordshire County
app for
FREE
from the
Nokia Store
by clicking
here
!