Hey everyone! Long time eh??? Over a month's self-imposed hiatus coz of exams, but couldn't resist any longer! So here I am, back with another new blog feature -
RED DEVIL RENDEZVOUS
- well you could say the Rival Rendezvous has been tweaked a bit to make it a candid chat with some of my fellow Red Devils!
Much happened this season. First of all,
Manchester United became CHAMPIONS of England for a record 19th time
, knocking Liverpool off their effing perch of 18 league titles! Plus we are gonna play the Champions League final against
Barcelona
at Wembley in three days! Then among other news,
Manchester City
secured their first trophy after a 36-year-long wait to win the FA Cup, crushing United's hope of a second Treble in the semifinal. Good work there, Mr. Mancini. Also,
Carlo Ancelotti
became the seventh manager to be sacked in eight years by Roman Abramovich, after
Chelsea
finished trophyless this season. And finally, the bad news that entertainers
Blackpool
were relegated on the last day of the season as they lost 4-2 at
Old Trafford
. But then, one gotta move on, and I hope Blackpool are back in the Premier League soon, coz they deserve to be there!
Champione champione Ole ole ole!!!
At the end of the season, I caught up with two of my fellow
Man United
fans -
Anand a.k.a. Ducky
of the excellent football blog
BigFourZa
(I like to call him Boss, you see!) and
Shantanu a.k.a. Shaan
of the awesome Facebook fan page
Inside Manchester United
on what they thought of Manchester United's season:
1. Sum up Manchester United's Premier League season in three words.
Ducky: Efficient. Relentless. Consistent.
Shaan: Nineteenth. Nineteenth. Nineteenth.
2. According to you, the game(s) that won us the title?
D: Blackpool, 3 goals in 18 minutes. Bolton at home with 10 men. And of course, the game that really did actually win it. Chelsea, 2-1 :) I pick these games because it's exactly the kind that the other 'contenders' repeatedly bottled over their season.
S: Chelsea game. That tension before the game can't be described as much as the joy after that quick Hernandez goal.
3. Who has been your player of the year at Man United? Why?
D: Well, it's just impossible to pick isn't it. 7 players who got 7/10, 4 who get 8/10 for the season. Chicharitoooo, if I had to pick one, for sheer shock value :)
S: Berbatov. Took the team forward when Mr. Ambition questioned the club. Nani comes a close second.
4. Thoughts on the longevity of 'Sir' Ryan Giggs?
D: Slightly bad timing now eh, with the revelations about the affair and all. But as a sportsman, it's just unbelievable how he's changed as his body has changed, as football has changed, etc. That's what proves how every sport has a mental component, thinking, understanding, adapting. It's not just about picking a pass or running with the ball. It's about deciding against whom it's better to do what.
S: Always said he can play as long as he can. But at the same time, we should stop being dependent on him.
5. How does it feel to know that Neville, Van der Sar & probably Scholes will have retired by the end of this season?
D: Well, for any team losing sch three experienced players wold always be an issue. But somehow with United, you just know we'll be ok, somehow. Van der Sar's leaving causes the most concern... I shudder when I think back to the days when we had Barthez and Carroll as out 'first choice' keepers, and this happened just after Schmeichel left. Goalkeepers leaving somehow take a long time to fill up, they're the most stable part of a team. Losing them can be quite a blow...
S: It's really sad to see them go. They've been really great. It's the end of an era. It's going to be hard to replace them.
6. If you were given a chance to find a successor to Sir Alex Ferguson, who would you choose? Or would like Fergie to go on & on & on?
D: I don't know really... somehow it feels like no one can follow Fergie. It will happen eventally, of course, but right now I'm hoping for the 'on and on and on...' :)
S: I'd like him to stay as long as he can. Lets be honest, this season wouldn't have been the way it was had it not been him. And to replace him? Well we have Blanc, Bruce, O'Neill.
7. What has been your favourite moment this season? Why?
D: Rooney. Man City. Overhead. You need me to answer 'why'? :)
S: All the comebacks this season. And well the Chelsea game!
8. The worst moment? And again, why?
D: Rooney again. Transfer request. I thought he was one of us, for life. His is the only United shirt I've bought recently. I knew CR7 would leave, I knew Tevez was a bastard, but I thought Rooney was with us. And it was such a shock when he said he wasn't. Which is what makes the previous moment worth so much more too.
S: Losing 3-1 to Pool. Absolutely hate losing to them.
9. Three signings you'd like Sir Alex to make in the summer with that £100 million?
D: I don't know names, if I did, I would be managing a Prem Club myself. But after what I saw in the Schalke games, by God is there any way we can get Neuer?? Apart from that... a replacement for Hargo. Anderson is just not the guy. And third... well, another central midfielder I think.
S: Modric, Marin, De Rossi/M'Vila. No Sneijder!
10. Three players you'd like to see walking out the door at Old Trafford?
D: Gibson, Evans and Macheda (if he's walking back in)
S: Brown (He's been a great players for us all these years, but he's hardly started 2-3 games this season. He's 31. Still has some football left in him. Let him go out and enjoy his last years), PIG (Isn't it obvious?!), Berba (Not getting any play time. He's a quality player. Why waste it on the bench?)
11. Man City ended their title drought of 36 years with the FA Cup. D'you expect them to be title contenders next season, now that they have finished in the top four?
D: I don't think so, especially if Tevez leaves. Balotelli is not going to get 20 goals a season. And with Chelsea in disarray, that leaves the most consistent other title contenders as Arsenal! Oh wait...
S: With them in the CL, they will be spending more and bringing in quality players. They are building a strong team. And yes, they can give us a tough time.
12. On an ending note, do you really think Manchester United can beat a rampaging Barcelona at Wembley? What makes you think so after what happened back in 2009?
D: Fletcher? Has he got the energy back? If he is fit enough, I'd straight pick him over Carrick in the middle of the park. He's the guy who was missing in Rome as well. He can really annoy the crap out of that triangular passing Catalan maniacs. Him and Park.
S: It's pretty hard to say anything about that game. Barcelona are clear Favs. But this United team, although not a great team, is more of a "Team". Play the 4-4-2 we've been playing lately. With Park, Giggs, Carrick/Fletcher (if fully fit), Valencia. Rooney behind Chicha. 2009, everything went wrong. We don't want to repeat that again. Barca are a great team. But surely not unbeatable. We have a chance to defeat them. And just might as well.
Traffordshire County
thanks both
Ducky
&
Shaan
for this blog feature. You can follow Ducky on Twitter
@BFZ_MUFC
& Shaan
@Shaanmufc
.
So what are your thoughts on whatever happened this season at Old Trafford? Feel free to leave your comments below or you can drop me a line on Twitter
@AbhinavCJ
& I'll get back to you asap!
Have you voted in the blog poll question yet??? Go & vote for the player(s) you feel will finish the club's top goalscorer on the night of 28th May! Time's running out!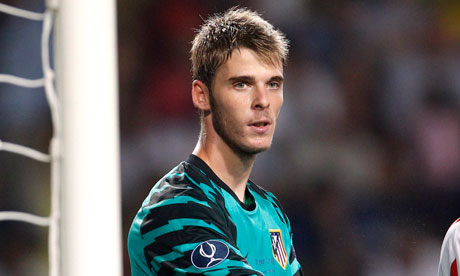 Bright future ahead, isn't it???
That's all Folks!
Yours,
CJ