Hey everyone I'm back! I know that many of us
Manchester United
fans are still beaming at the prospect of a Champions League semifinal after beating
Chelsea
1-0 at Stamford Bridge. But then, much work is still to be done when we host them in the second leg next Tuesday. Hope we show them that they are not champions anymore!
Well yes, the weekly feature is back with all that happened in & around Old Trafford this week, keeping an eye on the immediate fixture this weekend. After all, it's been quite an eventful week!
Match Preview: Manchester United vs. Fulham
The Red Devils take on the Cottagers at Old Trafford as they move a step closer to a record breaking 19th league title. Man United currently lead the league table with 66 points from 31 games, seven ahead of second-placed Arsenal, who have a game in hand. Tenth-placed Fulham, who have been steered to mid-table stability by Mark Hughes, haven't really been an opposition who have troubled the Red Devils at OT. In their last 15 encounters at OT, they have lost 14 times. Also, Old Trafford has been a fortress this season, with United not losing a single game at home in all competitions.
On the injury front, Darren Fletcher is still out while Wes Brown & John O'shea have started training this week. Anders Lindegaard is out for the season & injury prone Owen Hargreaves is eyeing a return to save his United career. Rafael, who suffered a knee injury during the Chelsea match, is out for now, with no news regarding his return.
Rooney will sit out of the next two fixtures on account of a ban imposed on him by the FA. Good news is that Anderson's back from a two month injury lay-off as well. Meanwhile, Jonny Evans & Paul Scholes both return to league action after completing their suspensions.
Regarding the starting line-up, Van der Sar looked bit uncomfortable with a groin strain during the Chelsea game, so I think Kuszczak can don the gloves instead. Ferdinand is back, but keeping in mind the second leg of the CL quarter-final, I think Smalling will get the nod ahead of Evans. Fabio is to replace his twin brother, in case Brown or O'shea fail to recover fully. Anderson, who has returned after nearly two months, will boss cental midfield alongwith the reliable Carrick, while Nani & Valencia taking up the flanks. Michael Owen seems to have not played for a long time & I see him starting ahead of Chicharito on Saturday.
As for the scoreline prediction, I'm going for a 3-0 win for the Red Devils - Berba, Owen & Nani getting the goals!
Rooney's Two-Match Ban Upheld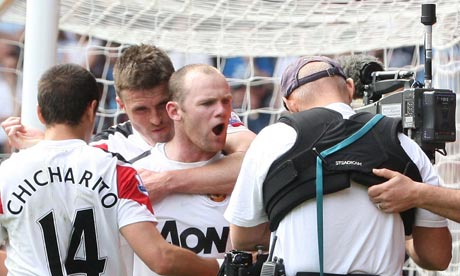 Man United striker Wayne Rooney's appeal against the two-match ban handed to him was rebuffed by the FA on Thursday. This means Rooney will have to sit out of the league game against Fulham & then the FA Cup semi aginst Man City at Wembley. However, he is free to play in next week's crucial second leg Champions League quarter-final vs Chelsea. Rooney had earlier accepted the charge imposed on him after he appeared to mouth cuss words live on a Sky Sports camera after scoring a hat-trick against West Ham, but contested the length of the ban.
Rooney has expressed his disappointment towards the decision as he made it clear through the following press release -
"I am gutted to miss two matches, one of which is an FA Cup semi-final at Wembley. I am not the first player to have sworn on television and I won't be the last. Unlike others who have been caught swearing on camera, I apologised immediately. And yet I am the only person banned for swearing. Whatever, I have to accept that what's happened has happened and move on from here. That's what I intend to do."
Anderson Returns To First Team Action
Brazilian midfielder Anderson is fit to start this Saturday's game against Fulham, after he came on a substitute in a Reserves game against Man City. He made it quite phenomenal, given that he scored a brace to win it 3-1 for United. Anderson's return couldn't have been timed better as the team enters into a crucial phase in their pursuit for a second 'Treble' since 1999. It also gives Sir Alex the required resources & depth in the squad in their quest for silverware this season.
Neville Testimonial Confirmed
United legend Gary Neville, who retired from all forms of football in February, is all set to make a final appearance in Man United colours. Manchester United will play Juventus on Tuesday, 24th May in what will be a testimonial game for Neville. On the announcement, Neville said:
"I am delighted to be given this game by the club, it is going to be a very emotional night, especially as I pull on that red shirt once more. I intend to savour every moment and I hope the fans can share in my special night."


Gary Neville spent his entire professional career at United, making 602 appearances for the club since 1992. He was part of the United team that won eight Premier League titles, three FA Cups, two League Cups & the Champions League in 1999.
What d'you think of this week's events? Think Rooney's ban was unjustified? Or have any pre-match thoughts on the Fulham game? Feel free to leave your comments below or drop me a line on Twitter @AbhinavCJ. And don't forget to check out the poll question of the blog & vote!