It's the weekend &
Manchester United
play title rivals
Chelsea
at
Old Trafford
on Sunday! So there can be no better time than now to be back with another edition of our blog feature - '
Rival Rendezvous
', in which we talk to rival fans ahead of crunch games. In conversation with
Traffordshire County
today is ardent Chelsea fan
Abhishek Easwaran
, who incidentally studies in the same college as I do, and is the author of the excellent blog "
Abhi's Random Talks
". So we had a candid chat with him, in which he expresses his straightforward & rather blunt pre-match thoughts on Super Sunday -
1. What are your thoughts on the game this Super Sunday?



Abhishek : Over hyped. Both sets of fans have their share of glory hunters who hype this. Only the true fans know that this game means nothing at the end of the day.

2. What do you think of the signings Chelsea has made this summer?



A : Decent. All I'm left wondering is how are we going to fall inside the FFP rule.

3. Chelsea have a new manager this season in Andre Villas-Boas. Do the fans have faith in his abilities looking at his past achievements?



A : I have faith in any manager at Chelsea. Right from Ranieri, I've been an ardent supporter of every manager we've had. AVB is a little different from the rest, he's ex Chelsea and knows in and out about this club. Plus from what I've seen in these few games, his half time team talks remind me of Mourinho's time. Best part about AVB? He never speaks ill of other teams and players.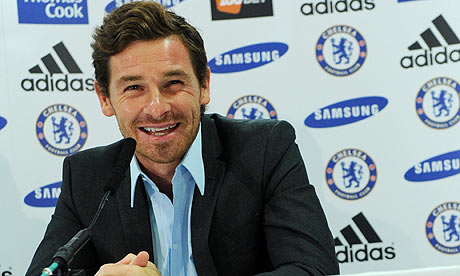 Absolute faith in the Gaffer
4. Chelsea sometimes bear the look of an ageing squad which is in need of a massive overhaul. Do you agree with this view?



A : No. We have a replacement for JT in the name of Branislav Ivanovic. We have Josh McEachran who's sure to replace Lampard and Drogba's replacements are Lukaku and Torres. Other ageing players? Ashley Cole? We have Bertrand and Van Anholt waiting in line. Essien has a good few years left in him and we have Mikel and Meireles to fill in his void too. Overall, the squad doesn't look old to me at all!

5. Onto the game, Torres isn't scoring (though he assisted both goals vs Leverkusen) while Drogba is out with injury. Does that very much undermine Chelsea's chances of winning the game at Old Trafford?



A : Its all upto one man if you ask me. Lampard. He's the essence Chelsea have had in the midfield all these years. If he steps up, I see no reason why we cannot beat United tomorrow. Drogba's absence will be felt as he's a great striker and is brilliant at defending set pieces for Chelsea. His physicality will be missed.
Can he still inspire them to victory at OT?
6. What should be Chelsea's strategy to overcome the high-flying Red Devils? Who do you think will the key players for the Blues?



A : Mata, Sturridge and Lampard.

7. Do you have high hopes for the likes of Sturridge, Lukaku, Mata, McEachran & similarly the players coming through the academy ranks?



A : Sturridge has proven his worth already. Everything's being said about Lukaku, lets see how he turns out. Mata and Josh have been fantastic when given chances. Josh needs to be more strong physically to compete at the PL level. He's just 18 and will only get stronger as time proceeds.
High Hopes
8. Which has been your favourite Manchester United vs Chelsea encounter till date?



A : Too many to select one.

9. Finally, your scoreline predictions for the match.



A : 1-1.
I thank Abhishek for talking to Traffordshire County. You can follow him on Twitter
@abhi_chelsea
.
The
Traffordshire County
mobile app is now available for your Nokia phone! Click
here
to download it for free from the
Ovi Store
.