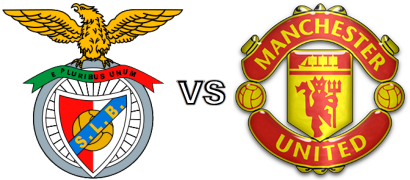 Manchester United
renew their quest for the
Champions League
honours after their Wembley hiding in May as they travel to
Benfica
for their first group stage outing this season. With both
Manchester
United & talismanic playmaker
Wayne Rooney
in devastating form, Benfica face a big challenge to stop the defending English champions.
On the absentees front, Manchester United will be missing central defender & captain
Nemanja Vidic
and enterprising youngsters
Danny Welbeck
&
Tom Cleverley
through injury. First choice centre-back
Rio Ferdinand
has also not travelled to
Portugal
with the squad, keeping in mind the important league home game against
Chelsea
on Sunday. This means two of Jonny Evans, Phil Jones & Chris Smalling are in line to start in the CB roles.
Patrice Evra
suffered a knock late in the
Bolton
game, so Fabio Da Silva might start on the left if the Frenchman is not fit to play.
Manchester United manager Sir Alex Ferguson indicated that the senior players might get an outing, which means Giggs, Park & Fletcher are in for a start. This also seems to be the perfect opportunity to give Berbatov & Michael Owen sufficient playing time. Both of them being top class strikers, it will be an ideal chance for the gaffer to keep them happy alongwith rotating the squad. The game might also feature the return of Luis Antonio Valencia, who hasn't played in the first team since suffering an injury in the summer during the Copa America.
As for the goalkeeper's position, it will again be a good move to hand Anders Lindegaard his first Champions League start. First choice GK David De Gea has played in every game this season & deserves some much-needed rest. Apart from that, Lindegaard might as well be rewarded for an excellent pre-season, though belatedly.
Manchester United Squad v Benfica: David De Gea, Anders Lindegaard, Jonny Evans, Patrice Evra, Fabio Da Silva, Phil Jones, Chris Smalling, Oliveira Anderson, Michael Carrick, Darren Fletcher, Ryan Giggs, Luis Nani, Ji-Sung Park, Antonio Valencia, Ashley Young, Dimitar Berbatov, Javier Hernandez, Michael Owen, Wayne Rooney.
Predicted
MUFC XI
: Lindegaard, Smalling, Jones, Evans, Fabio;
Valencia
, Fletcher, Giggs, Park; Berbatov, Owen.
Scoreline Prediction: Benfica 0 Manchester United 2
And no, that's not all Folks! Our guest author
Hanzla
, has written a slightly belated
Bolton
match review, which you might read as well –
How Things Unfolded At The Reebok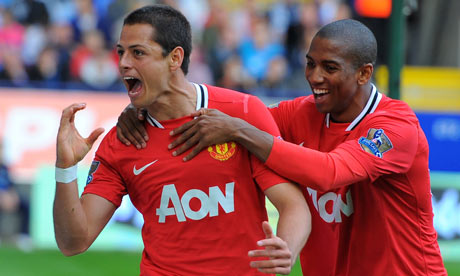 Watching Manchester United play the way they are doing right now is a treat, even to those who never miss out an opportunity to spank the Red Devils. Before I get onto the game, a slight recap of the all important build up. If the performance against Arsenal wound me up then watching England move the ball at snail's pace was a thorn in my side.
United put up a strong side minus Chris Smalling, who of course was rested bearing in mind the tight schedule that lies ahead. If the win against Arsenal was the preface, then there was no better way the first chapter of the book could have unfolded as it did at the Reebok.
Right from the start, United were pressing very high allowing very little time on the ball for
Bolton
players. Attacking wise, it was no different. Special mention for
Ando
, who I thought is finally repaying the faith SAF showed in him. Kevin Davies's baseball-like sliding tackle was pathetic to say the least, but what more could you expect. Some things or some people are not bound to change.
Cleverley
survived a breakage, but he will be out for a month. Just when he was hitting top gear and he has been sensational thus far, you have none other than Davies spoiling the party. Hopefully he will come out of it stronger, both physically as well as psychologically.
The pace SAF has injected into the side by signing Young and Phil Jones is already paying rich dividends. United are looking more energetic and also moving the ball at a frantic pace. As for the first goal - a typical Chicharito goal. His initial movement left Gary Cahill for dead. Chicharito made two runs, one each for the defender and the ball. Something not common nowadays. Superb movement and good finish as well. Jones also had a monumental effect on the game. Though he was out of position playing as a full back, going forward he was good as anybody. Rooney - well he is not looking back since the speculated fallout he had with the club. It seems as if the reports inspired him as it only needs a tiny spark to reignite the fuel inside him. He is in the form of his life and if he stays injury free, he could have a 40 goals-season this year.
Nani's wing-play was good but in the second half he was more interested in scoring himself rather than setting people up. In a way, it doesn't look bad at all. You want your midfield to contribute and get on the score sheet as well which is not possible if they are only looking for killer passes.
Defensively, United were pretty sound. De Gea once again showed his shot stopping heroics, parrying couple of efforts which must now silence all his critics, if there are any of them left. The kid is yet to mature and we all should buy him some time to settle in but these football experts just aren't made of the same earth.
Overall, a clinical performance which sent a loud message to every team out there - especially to our noisy neighbours. SAF has freshened things up at the club, something that he should have done after that horrific night in
Rome
. I must admit the way United are playing this term, they awaken reminiscence of the Ronaldo-Tevez era. The exuberance that was missing from the past two seasons as United were rightly graded as repellent. If United could continue the rampage, then the future certainly looks very resplendent.
The
Traffordshire County
mobile app is now available for your Nokia phone! Click
here
to download it for free from the
Ovi Store
.
That's all Folks!