So! Here we are, back to the Annual Megalomaniac Festival, starring yours truly as the emcee for the third year in a row – not that there aren't any contenders for the position but hey, this is my moment & I say what I want.
Well, as the title may have suggested, this is about my reading exploits in the past year & boy, were there some to tell about. To start with, I took part in a couple of reading challenges – the Brunch Book Challenge (24 books or more in 2014) & the usual Goodreads Annual Reading Challenge. Yeah, the latter's the one in which you set an impossibly low target for yourself & then pat your own back for accomplishing it well in time. (For the record, it was 200 days. The Brunch one was done in 100. But hey, who's counting?)
I also attended three literature fests this year – KALAM (Kolkata Annual Literary Meet), Litomania (one on Indian popular fiction in my college campus) & the Times Literary Carnival (in Mumbai – best time I've had at a LitFest till date), besides finally making it to the Kolkata International Book Fair, the third largest in the world. Jolly good time that, but not so when it came to book prices. Still, one should go there only for the sheer scale of it – it's simply overwhelming.
Then there was the small matter of participating in the
#387ShortStory
Challenge, which entailed reading a short story by a new author every day. Though it started last year in December, I valiantly carried on till mid-June before I ran out of stories. The guy who started it -
@vivekisms
– was still at it last time I checked his blog & since he's awesome, I recommend you follow him if you love books. In the meantime, all that short fiction catapulted me back into the top 1% of readers on Pocket, so that's another feather in my cap.
Feathers in my cap remind me – hell, my photo was published in HT Brunch too! They called me their 'top reader' & all in their Reading Special Issue, which was nice but the best part were the books they sent me over the year & now I've even made it to their top 24 readers of the year & I'm getting a reading hamper from them & I'm just so amazing – yeah, kinda makes you jealous, no?
Of course, all this self-aggrandizement would be incomplete without telling how I found a new literary fraternity in this wonderful book review blog called
Between The Lines
, run by my handler
@bassyc
. For those who wonder why being BTL is a great place to be, you can check out my Instagram feed (
@thebongone
).
Now that we are done with all the other stuff, let's talk about the books, shall we? Well, unlike last year, I did not pick up a single graphic novel or novella to boost my reading stats so all I read were proper books. I'd say this was the year of non-fiction, which was mostly due to my endeavour to expand my horizons through my college library, which has a non-existent shelf titled 'Fiction'. (Biggest mystery however is that how a copy of The Bourne Ultimatum found its way in there.) My pace too slowed down since term began in mid-August, as I managed about 4 books a month after that. Pathetic, I know.
Sure, there were some highlights – a couple of firsts, actually. I read a Bengali novel this year (yeah, could you please applaud a bit louder there?) called Chander Pahaar (Mountain of the Moon) by Bibhutibhushan Bandopadhyay, a classic by all means. And then there was a collection of poetry too, which made it to THE LIST & so I will talk about it in a while.
And the time is now! You can of course check out the previous specimens of my narcissistic tendencies on this blog itself, so spare me the trouble of any more links. And I won't keep you waiting anymore – here you have my list of the ten best books I have read in 2014, in chronological order:
Beastly Tales from Here & There
Author: Vikram Seth
Publisher: Penguin Books India [Paperback]
First Published: 1991
Summary: From the impish to the brilliantly comic, Vikram Seth's animal fables in verse can (like Diwali sweets) be enjoyed by young and old alike. Familiar characters in a new and magical form, such as the greedy crocodile who was outwitted by the monkey or the steady tortoise who out-ran the hare, here take their place beside a newly minted gallery of characters and creatures who are quirky, comical and always fun. Of the ten tales told here, two come from India, two from China, two from Greece, two from Ukraine, and two, as the author puts it "came directly to me from the Land of Gup." This is a book that displays astonishing versatility of the poet who gave us The Golden Gate and All You Who Sleep Tonight. The flair and delight of Beastly Tales from Here and There is proof that Vikram Seth can try on most unusual clothes without in the least losing his unique poetic identity.
Review: I was attending my final event at KALAM & Vikram Seth read an entire poem from this collection - I instantly fell in love with it. Though he wrote this for children, I bet you won't be able to resist the charm of this wonderful collection of poetry. Beauty lies in simplicity & this is a gem by all means.
Delicacy
Author: David Foenkinos [translated from the French by Bruce Benderson]
Publisher: Harper Perennial [eBook]
First Published: 2009
Summary: Natalie and François are the perfect couple, and perfectly happy. But after François dies suddenly, only seven years into their still blissful marriage, the widowed Natalie erects a fortress around her emotions into which no one can gain access. Until the most unlikely candidate appears: Markus, Natalie's Swedish, geeky, and unassuming coworker.
Review: I don't read a lot of romance but this one's up there with the very best I've encountered. Quite a page-turner too - finished it within a day itself. This heart-warming tale of finding love in the unlikeliest of places will leave you enchanted. Perhaps the most enjoyable book I've read in 2014.
Moneyball: The Art of Winning an Unfair Game
Author: Michael Lewis
Publisher: W.W. Norton & Company [Paperback]
First Published: 2002
Summary: Billy Beane, general manager of MLB's Oakland A's and protagonist of Michael Lewis's Moneyball, had a problem: how to win in the Major Leagues with a budget that's smaller than that of nearly every other team. Conventional wisdom long held that big name, highly athletic hitters and young pitchers with rocket arms were the ticket to success. But Beane and his staff, buoyed by massive amounts of carefully interpreted statistical data, believed that wins could be had by more affordable methods such as hitters with high on-base percentage and pitchers who get lots of ground outs. Given this information and a tight budget, Beane defied tradition and his own scouting department to build winning teams of young affordable players and inexpensive castoff veterans.
Lewis was in the room with the A's top management as they spent the summer of 2002 adding and subtracting players and he provides outstanding play-by-play. In the June player draft, Beane acquired nearly every prospect he coveted (few of whom were coveted by other teams) and at the July trading deadline he engaged in a tense battle of nerves to acquire a lefty reliever. Besides being one of the most insider accounts ever written about baseball, Moneyball is populated with fascinating characters. We meet Jeremy Brown, an overweight college catcher who most teams project to be a 15th round draft pick (Beane takes him in the first). Sidearm pitcher Chad Bradford is plucked from the White Sox triple-A club to be a key set-up man and catcher Scott Hatteberg is rebuilt as a first baseman. But the most interesting character is Beane himself. A speedy athletic can't-miss prospect who somehow missed, Beane reinvents himself as a front-office guru, relying on players completely unlike, say, Billy Beane. Lewis, one of the top nonfiction writers of his era (Liar's Poker, The New New Thing), offers highly accessible explanations of baseball stats and his roadmap of Beane's economic approach makes Moneyball an appealing reading experience for business people and sports fans alike.
Review: I'm gonna paraphrase & repeat what Nick Hornby wrote in his review of this book in The Believer - I understood about one in every four words of this book. That is because I'm no baseball fan, though my only interaction with the sport has been the TV video game I used to play as a kid, besides the occasional movies like the one based on this book & the Clint Eastwood-starrer "Trouble with the Curve".
And yet I found it totally enthralling - for in between the baseball terminologies & stats that didn't matter that much to me lay an inspiring tale of how a few good men found an 'efficient' (mind you, that's the magic word) way to run a Major League Baseball club. It is the classic story of David versus Goliath, in which David might eventually lose but not before it has proved a point to the big boys - he is always in there with a fighting chance with his humble sling.
That is perhaps the hallmark of a great sports book - you might not know much about the sport or maybe even hate it, but the book succeeds in leaving a lasting impression on your mind. Needless to say, "Moneyball" is a wonderful, delightful read & highly recommended. Like Hornby states - if you love baseball, you will enjoy it four times more & probably explode when you're done. A must read for those who read sports literature.
The Girl with the Dragon Tattoo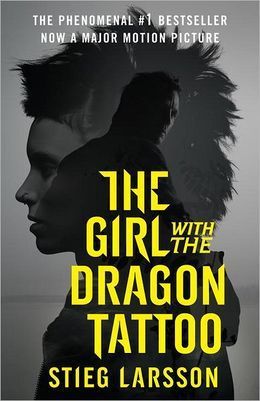 Author: Stieg Larsson [transalted from the Swedish by Reg Keeland]
Publisher: Maclehose Press [Paperback]
First Published: 2005
Summary: A murder mystery, family saga, love story, and a tale of financial intrigue wrapped into one satisfyingly complex and entertainingly atmospheric novel. Harriet Vanger, scion of one of Sweden's wealthiest families, disappeared over forty years ago. All these years later, her aged uncle continues to seek the truth. He hires Mikael Blomkvist, a crusading journalist recently trapped by a libel conviction, to investigate. He is aided by the pieced and tattooed punk prodigy Lisbeth Salander. Together they tap into a vein of unfathomable iniquity and astonishing corruption.
Review: Honestly, I had absolutely no plans of reading this book in the near future. It so happens I had sneaked off to Flora Fountain (Mumbai's finest second-hand books market) to see if I could get hold of a copy of Murakami's "The Wind-Up Bird Chronicle". After a successful outing (and a lighter pocket), I happened to spot a copy of this book lying in front of a bookstore as I walked back, available for what seems a throwaway price in hindsight. Tempted, I bought it & immediately regretted it, unable to concentrate on reading Bolano anymore. Three days later, I was reading this & I was completely hooked. Kismet? I guess.
I had watched the movie before & I liked it so much that there have been repeat viewings, which meant I was quite familiar with the plot & the characters. Plus this being a possible murder mystery in one aspect, it meant I already knew 'whodunit'. Watching the movie first however has never been much of a hindrance, going by my experiences of reading "Life of Pi" or "Shutter Island" (both are favorites).
Coming to the book, it actually helps that the events of this book are set through a longer frame of time, allowing the tension to rise besides giving most of the Vanger family members (the female ones, especially) as well as Erika Berger flesh, blood & soul - the movie gave them short shrift for all I know. So overall, I'm pleased to say this is the best book I've encountered in the crime/mystery/noir genre since reading Tom Rob Smith's stunning debut novel "Child 44" a couple of years ago.
Kafka on the Shore
Author: Haruki Murakami [translated from the Japanese by Philip Gabriel]
Publisher: Vintage [Paperback]
First Published: 2002
Summary: Kafka on the Shore, a tour de force of metaphysical reality, is powered by two remarkable characters: a teenage boy, Kafka Tamura, who runs away from home either to escape a gruesome oedipal prophecy or to search for his long-missing mother and sister; and an aging simpleton called Nakata, who never recovered from a wartime affliction and now is drawn toward Kafka for reasons that, like the most basic activities of daily life, he cannot fathom. Their odyssey, as mysterious to them as it is to us, is enriched throughout by vivid accomplices and mesmerizing events. Cats and people carry on conversations, a ghostlike pimp employs a Hegel-quoting prostitute, a forest harbors soldiers apparently unaged since World War II, and rainstorms of fish (and worse) fall from the sky. There is a brutal murder, with the identity of both victim and perpetrator a riddle—yet this, along with everything else, is eventually answered, just as the entwined destinies of Kafka and Nakata are gradually revealed, with one escaping his fate entirely and the other given a fresh start on his own.
Review: As a reader for the past 10 years or so, I've read a few books & I think it's natural that one begins to nurture certain conceptions about what a novel could be like at best. And then once in a while, I read something that seems to knock on my forehead & say - well mate, I think everything you've believed till now is wrong & so let me open your mind to all kinds of possibilities. Last year, it was David Mitchell's "Cloud Atlas" which did that to me. Now add "Kafka on the Shore" to this illustrious list.
I don't need to give you the summary in my own words, but I'll give you this - there is something extremely personal about reading "Kafka on the Shore". It so happens that when I expressed my desire to read Murakami for the first time on Twitter (in the quest of recommendations), one guy told me how he was at his wit's end after reading this book. Though I read two books by Murakami before I picked up this one, what he said was always at the back of my mind. When I was singing the praises of this book on Twitter once I was done, this guy asks me, "So, what was it about?" And then when I pondered how best I could present my thoughts, it struck me - there is no one except Murakami himself who could provide a perfect explanation to what this book is all about. His constant refusal to do so means everyone who reads & tries to make sense of it is totally on his/her own & till then, perhaps the best thing we can do to discover the ultimate truth would be to read this again & again & again.
"Kafka on the Shore" is lyrical, addictive, mind-boggling awesomeness. Read it to believe it. Highly recommended.
The Sceptical Patriot
Author: Sidin Vadukut
Publisher: Rupa Publications [Paperback]
First Published: 2014
Summary: India. A land where history, myth and email forwards have come together to create a sense of a glorious past that is awe-inspiring...and also kind of dubious. But that is what happens when your future is uncertain and your present is kind of shitty—it gets embellished until it becomes a totem of greatness and a portent of potential. Sidin Vadukut takes on a complete catalogue of 'India's Greatest Hits' and ventures to separate the wheat of fact from the chaff of legend. Did India really invent the zero? Has it truly never invaded a foreign country in over 1,000 years? Did Indians actually invent plastic surgery before those insufferable Europeans? The truth is more interesting—and complicated—than you think.
Review: "The Sceptical Patriot" is very much a book about bias - the biased selves we Indians tend to slip into every time someone famous or not-so-famous says about the supposed achievements of our country, depending on who it is & what has been said. And it is this very bias that often results in a sense of pride that is somewhat misplaced on many occasions - Sidin Vadukut's first work of non-fiction is an exploration into the validity of some of these very instances.
What distinguishes this book from any other book aiming to sift fact from fiction is the author's recounting of past experiences from his life to explain his interest in a particular legend. Or citing anecdotes & analogies to shed more light on his own approach - at times even to counter-question it.
Laced with the trademark wit & humour of the bestselling Dork Trilogy and the much-loved Cubiclenama columns, it is a funny, enjoyable & sensible - if somewhat superficial - book on the Indian outlook towards pop-history. If you're looking for a read that will engage & enlighten your mind, your search ends here.
A Fine Balance
Author: Rohinton Mistry
Publisher: Faber & Faber [Paperback]
First Published: 1995
Summary: The time is 1975. The place is an unnamed city by the sea. The government has just declared a State of Emergency, in whose upheavals four strangers - a spirited widow, a young student uprooted from his idyllic hill station, and two tailors who have fled the caste violence of their native village - will be thrust together, forced to share one cramped apartment and an uncertain future.
As the characters move from distrust to friendship and from friendship to love, A Fine Balance creates an enduring panorama of the human spirit in an inhuman state.
Review: "But rest assured: This tragedy is not a fiction. All is true."
Words fail me when I try to write about this. Few have written about Bombay & the Emergency era like Mistry has in what is possibly his finest work. Just read it.
Tinker, Tailor, Soldier, Spy
Author: John le Carre
Publisher: Penguin Books [Paperback]
First Published: 1974
Summary: The man he knew as "Control" is dead, and the young Turks who forced him out now run the Circus. But George Smiley isn't quite ready for retirement—especially when a pretty, would-be defector surfaces with a shocking accusation: a Soviet mole has penetrated the highest level of British Intelligence. Relying only on his wits and a small, loyal cadre, Smiley recognizes the hand of Karla—his Moscow Centre nemesis—and sets a trap to catch the traitor.
Review: There have been few books I had wanted to read so desperately as this one. I had watched Tomas Alfredson's brilliant 2011 film adaptation & even the BBC series starring the legendary Alec McGuiness as Smiley & yet this book did not fail to surprise me as I reached its conclusion. Easily one of John le Carre's finest Cold War-era works ever.
Alone in Berlin
Author: Hans Fallada [translated from the German by Michael Hoffman]
Publisher: Penguin Modern Classics [Paperback]
First Published: 1946
Summary: This masterpiece - by a heroic best-selling writer who saw his life crumble when he wouldn't join the Nazi Party - is based on a true story.
It presents a richly detailed portrait of life in Berlin under the Nazis and tells the sweeping saga of one working-class couple who decides to take a stand when their only son is killed at the front. With nothing but their grief and each other against the awesome power of the Reich, they launch a simple, clandestine resistance campaign that soon has an enraged Gestapo on their trail, and a world of terrified neighbours and cynical snitches ready to turn them in.
In the end, it's more than an edge-of-your-seat thriller, more than a moving romance, even more than literature of the highest order-it's a deeply stirring story of two people standing up for what's right, and each other.
Review: Brilliant, vivid & heart-wrenching portrait of wartime Germany through the eyes of a middle-aged couple trying to honour their dead son's memory. Highly recommended.
The Upside of Irrationality
Author: Dan Ariely
Publisher: HarperCollins [Paperback]
First Published: 2010
Summary: In his groundbreaking book Predictably Irrational, social scientist Dan Ariely revealed the multiple biases that lead us into making unwise decisions. Now, in The Upside of Irrationality, he exposes the surprising negative and positive effects irrationality can have on our lives. Focusing on our behaviors at work and in relationships, he offers new insights and eye-opening truths about what really motivates us on the job, how one unwise action can become a long-term habit, how we learn to love the ones we're with, and more.
Drawing on the same experimental methods that made Predictably Irrational one of the most talked-about bestsellers of the past few years, Ariely uses data from his own original and entertaining experiments to draw arresting conclusions about how and why we behave the way we do. From our office attitudes, to our romantic relationships, to our search for purpose in life, Ariely explains how to break through our negative patterns of thought and behavior to make better decisions. The Upside of Irrationality will change the way we see ourselves at work and at home and cast our irrational behaviors in a more nuanced light.
Review: Remains one of the most insightful, deftly-written & undeniably brilliant books I've come across this year. This is the kind of book that causes a paradigm shift in the way you look at the world & I cannot recommend it highly enough.
So there we have it – the ten best books I have read all year. But like every other time, the best-of list is never enough, is it? Here are some more books that deserve a special mention –
The Siege by Adrian Levy and Cathy Scott-Clark
A top-notch work of investigative reportage into how 26/11 unfolded.
Ghalib Danger by Neeraj Pandey
A proper Bollywood-style thriller by one of the most promising & original storytellers in contemporary Hindi cinema.
The Great Unknown by Sankar [translated from the Bengali by Soma Das]
"Chowringhee" might be the writer's most renowned work but the first book in the Shankar trilogy captivated me far more.
The Stand by Stephen King
Would've made the top ten list if not for its rather unconvincing ending. Still, King's magnum opus.
Flash Boys by Michael Lewis
A David versus Goliath tale in the backdrop of Wall Street.
The Lincoln Lawyer by Michael Connelly
An exquisite page-turner & a fine introduction to ace lawyer Mickey Haller.
Teresa's Man and Other Stories from Goa by Damodar Mauzo [translated from the Konkani by Xavier Cota]
A beautiful collection of short fiction that deserves a wider readership than it probably will get.
And that's it! Thank you for bearing with me all this while & I hope you enjoy all these books as much as I did, if not more. Here's to hoping that 2015 will be a much more fruitful year in terms of reading – for the joys of literature lie in reading not more but better books.
Happy Reading! And a Happy New Year!
That's All, Folks!