Hey everyone! We know that the season is over as
Manchester United
lost to
Barcelona
deservingly at Wembley last Saturday, but then, look at it in a positive way -
we won a record 19th league title & reached the Champions League final for the third time in four years
! Isn't that a sort of an achievement, especially when we lacked players like Ronaldo, Tevez & Rooney (okay, for the season's first half)? What a team effort it has been from Manchester United, as our fellow Red Devils stressed in our last post. So let's be cheerful, and look forward to a summer full of shopping surprises, eh?
As we have nothing much to offer on the footballing action (except to tell, if you've been living under a rock, that England embarrassingly drew 2-2 with Switzerland at Wembley), we got you much of what's happened at Manchester United in the past week - In A Nutshell!
Scholes Hangs Up His Boots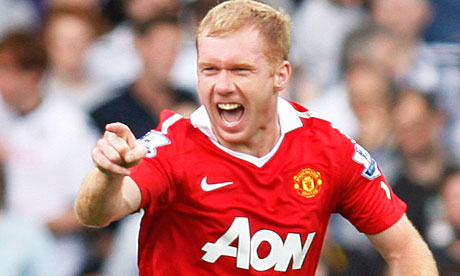 Manchester United's veteran midfielder
Paul Scholes
retired from all forms of football on Wednesday. It had been rumoured that Scholes was growing dissatisfied with his bit-part playing role & so he will take up a coaching role at the club next season onwards. The 36-year-old was a member of the famed academy youth batch of 1992 & made his senior team debut in 1994, going on to make
676 appearances
in a career spanning 17 years. Scholes's final game for the club was last weekend's Champions League final defeat to Barcelona, in which he was a second-half substitute. He won
10 Premier League titles
& after missing the 1999 Champions League final through suspension, was part of the 2008 triumph over Chelsea in Moscow.
The midfielder's press statement read as such:
''I am not a man of many words but I can honestly say that playing football is all I have ever wanted to do. To have had such a long and successful career at Manchester United has been a real honour. To have been part of the team that helped the club reach a record 19th title is a great privilege.
''This was not a decision I have taken lightly but I feel now is the right time for me to stop playing. I would like to thank the fans for their tremendous support throughout my career, I would also like to thank all the coaches and players that I have worked with over the years.
"But most of all I would like to thank Sir Alex [Ferguson] for being such a great manager. From the day I joined the club his door has always been open and I know this team will go on to win many more trophies under his leadership."
Speaking on the Ginger Prince's decision, manager
Sir Alex Ferguson
said -
''What more can I say about Paul Scholes that I haven't said before? We are going to miss a truly unbelievable player. Paul has always been fully committed to this club and I am delighted he will be joining the coaching staff. Paul has always been inspirational to players of all ages and we know that will continue."
Ginger Prince - Champion Forever
Honestly, I haven't watched Scholes play in the 90s or even in the first half of the last decade, when he was at the top of his game. But whatever I have seen of him in the past six years or so, I feel lucky coz he is such a fine player. Even though he is totally opposed to being in the limelight unlike
David Beckham
or
Gary Neville
, he will remain one of the greatest footballers ever to don the Red shirt. Thank you
Scholesy
!
Owen Signs New Deal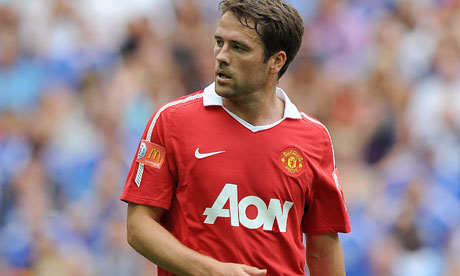 One more year...
Manchester United striker
Michael Owen
has signed a one-year extension to his time at the club. The former Liverpool & Real Madrid striker was signed up from Newcastle United on a free transfer in the summer of 2009 after Cristiano Ronaldo left the club as the world's costliest player. It was originally perceived that Owen would leave the club for free this summer after his contract expired but Sir Alex Ferguson sprung a surprise by offering him a new deal. The manager is reportedly impressed by the former England forward's off-the-pitch contribution. Plus he offers a vast amount of experience following the retirements of
Edwin van der Sar
,
Gary Neville
&
Paul Scholes
this season.
Sir Alex expressed his thoughts on Owen's new deal as under:
''Michael has proved to be a top footballer. It is unfortunate that he did not get more opportunities but the form of Chicharito [Hernández] put everyone in the shade and his partnership with Rooney proved invaluable. I am delighted Michael is staying for a further year and we will look to give Owen more opportunities in the new season."
Michael Owen expressed his delight on staying at
Old Trafford
alongwith winning his first ever Premier League title medal. He said:
''To play alongside so many great players, under an exceptional manager, and in front of so many passionate supporters is a real inspiration. I can't wait for next season to start.''
Berbatov Vows To Fight For His Place
Down... But Not Out
Manchester United forward
Dimitar Berbatov
told the press that he will not be leaving the club in the summer, despite the disappointment of being left out of the Champions League final squad, when he didn't even make the bench.
Berbatov said,
''I am a Manchester United player and I will be glad to fulfil my contract. Everyone has some difficulties but I have always fought and will keep fighting for a prime place. I never gave up in my life."
The Bulgarian striker also refuted reports that he stormed away from the Wembley stadium just before the Champions League final. He remarked,
''The truth is that I was in the dressing rooms and watched the game on TV. I was just so very disappointed and ashamed that I was left out of the squad. I cannot hide my emotions and I did not want people to see how sad I was. But this was the manager's decision. The pain from Wembley cannot make me give up but only fight more."
He spoke with optimism regarding his role at the club next season -
''There is always next year. I will aim for this (Champions League) as long as I play football. Winning England's top scorer title is a grand achievement for me as a foreigner.''
''Manchester United is the highest step for me. Everything after that will be a step down. This moment will come but for the time being I am a United player and I want to stay and help win the 20th title, which I am certain is on its way."
That's all we have from
Old Trafford
at the moment! But hey, it's not over. As it's off season, the most interesting piece of news would probably be the transfer rumours involving Manchester United. So in our 50th blogpost, we start off with a mini-blog feature called '
Word On The Street
' - in which we look into transfer gossip linking players to a move to Old Trafford, or away from it!
So first up, the Daily Mail reports that
Manchester United
have beaten
Liverpool
in the race to sign England striker-cum-winger
Ashley Young
for a fee of £20 million.
The Daily Mail also reports that
Tottenham Hotspur
midfielder
Luka Modric
has alerted Manchester United & Chelsea that he is open to a move, since he admitted he will miss playing Champions League football. The Croatian is contracted to Spurs till 2016, which means he won't come cheap. Given Harry Redknapp's declaration to hold on to his best players, it will take a bid in excess of £30 million to prise Modric away from Whit Hart Lane.
Sunderland
manager Steve Bruce has identified
Darron Gibson
as the man to replace
Jordan Henderson
, who has been linked with a big money move to Liverpool. Bruce also wants to sign
Wesley Brown
, who has fallen behind
Jonny Evans
&
Chris Smalling
in the pecking order for central defence positions at Old Trafford.
And finally,
West Brom
want to re-sign
Tomasz Kuszczak
for £3 million. The Polish international has become surplus to requirements after the confirmation of 21-year-old Spanish goalkeeper
David De Gea
signing on from Atletico Madrid for £18 million, plus Danish numero uno
Anders Lindegaard
already in the ranks.
So what are your thoughts on all that happened at the club? Think it was time for Scholes to go? And would you prefer Owen over Berbatov? Feel free to leave your comments below or drop me a line on Twitter
@AbhinavCJ
& I'll get back atcha right away!
As I finish off, you can read
this excellent piece on Paul Scholes
on the ever-brilliant football blog '
BigFourZa
'.
That's all Folks!
Yours,
CJ